AIDAaura
Background
In january of 1998, Deutsche Seereederei, a company that used to sail cruises for the German workers unions, renamed their cruisedivision as Arkona Touristik. They were in the middle of a complete restructuring, that has started when they had sold their newest 1996-built cruiseliner Aida to Norwegian Cruise Line, only to charter her back for her normal cruiseservice for the German market. This was done for a more stable financial position. A daughtercompany owned by Arkona Touristik, named Seetours, was then sold to P&O and a new company named AIDA Cruises was started up, in which both P&O through Seetours and Arkona Touristik held almost equal shares, P&O owning 51 percent and Arkona 49 percent. In the year 2000, Arkona Touristik sold its share to P&O, making AIDA Cruises a 100% daughter of the big British company. Meanwhile, because of the financials that were created by all these complicated restructurings, two ships could be ordered from the Aker Yards at Wismar, Germany in september of 1999. These ships would be slightly larger versions of the earlier Aida, creating a very modern fleet for the old German company.
The companies history as a low-cost informal line for German workersunions was the basis for the new style of AIDA Cruises, as the ships were operated as clubships. This meant that cabins were cleaned only once a day, the restaurants were mostly buffet-style and the style was kept very laid-back and informal. A little like a simple shoreside family hotel. That said, the quality of the product was still very high like you could expect from a German based company. Arkona Touristik and P&O saw a huge potential for low-cost quality cruises in northen Europe and the Mediterranean, where Palma de Mallorca was one of the largest hubs for the company.
AIDAaura is seen passing the village of Velsen Noord in the evening of the 1st of october 2016. She just returns to the North Sea after her first visit to Amsterdam.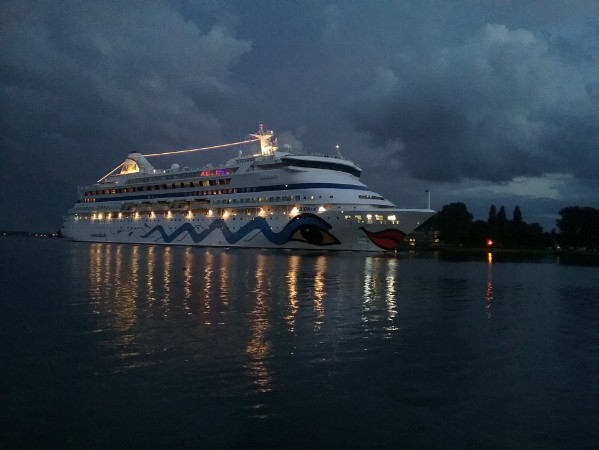 Construction and general statistics
The two ships were ordered at the 29th of september 1999 and were launched after P&O had become the sole owner of the AIDA Cruises operations. Slightly larger and perfectioned versions of the earlier Aida, that measured 38.500 tons, the new pair was to measure 42.300 tons. Although now British owned and homeported in London, the ships were definitely going to be German and the language aboard also was kept traditionally German. The first ship of the pair was launched in september of 2001 and she was named AIDAvita. She entered service in may of 2002 with a few short cruises in the Baltic.
The second ship of the pair was launched at the 7th of september of 2002. She was to be named AIDAaura, and her total tonnagemeasurement was 42.289. The ship had a lenght of 202,90 meters, her beam was 35,53 meters and her draught measured a maximum of 6,20 meters. Dfriven by two screws, the ship was able to sail at a maximumspeed of 21,8 knots. She was powered by two 12-cylinder, one 8-cylinder and one 6-cylinder diesel engine, designed by Wärtsilä. Her power output comes from four generators, connected to two electric motors. In her 633 cabins, her maximum amount of 1582 passengers are catered for by a crewnumber of 384. Within these numbers, you can clearly see another ratio then normal for cruiseliners. Of course this all is due to her clubship image, in which less personell is available. Her yardnumber at the Aker MTW Yards at Wismar had been 004.
At the 4th of april of 2003, the ship was delivered as sceduled to P&O Princess Cruises, the sole owner of AIDA Cruises. This all was just before the whole of the P&O Princess operations was absorbed into the Carnival Corporation after a failed attempt to merge with Royal Caribbean International.
Design
Like her two earlier sisters, AIDAaura was designed by the Hamburg-based Partner Ship Design as a very colourfull and informal ship. No Captains Gala, no traditional restaurants and no fixed dinnertimes. Although with her introduction the ship was the largest in the fleet, nowadays she is small compared to her new monstrous sisters and her smaller scale makes her very intimate and this also gives her a very own clientbase with many repeaters. Her decor is playfull and she is filled with many contemporary pieces of art. In her bars and restaurants, it is encouraged to interact with other passengers, like in the AIDA Bar where the bar is shaped in the form of a compass rose that makes it very easy to see and speak with others. For the balconycabins, hammocks can be rented and for on-shore activities the company provides bikes and tours around the ports that are visited.
Her outerdeck is tropical, decorated with artificial stones and palmtrees, and the basketball/ volleyballcourt, swimmingpool, whirlpools and DJ booth are located next to eachother for a total entertainment facility. Very cool inside is the whirlpool in her extensive Spa-area, that is located in an artificial cave.
The ship has an extensive Kids Club, mainly because the line is very popular with families as there are large discounts given to everyone under the age of 23. These Kids playarea's are also decorated in very tropical, pirate style with even a galleon to play in. As a change from the newer ships, in the time AIDAaura was built, the company still added a traditional theater.
In the buffet-restaurants, plants are everywhere and you can dine under the leaves. Many colourfull and intimate bars give enough opportunities to take a nip. All in all, the ship looks and feels very fresh and easy-going, ideal for people who just want to have a relaxing and unpretentious cruise experience. Do not pack jacket and tie or cocktaildress and do not expect quietness due to the many children aboard. But do expect a clean, informal German cruiseproduct that has become very popular throughout Europe as an alternative to inpersonal megaships.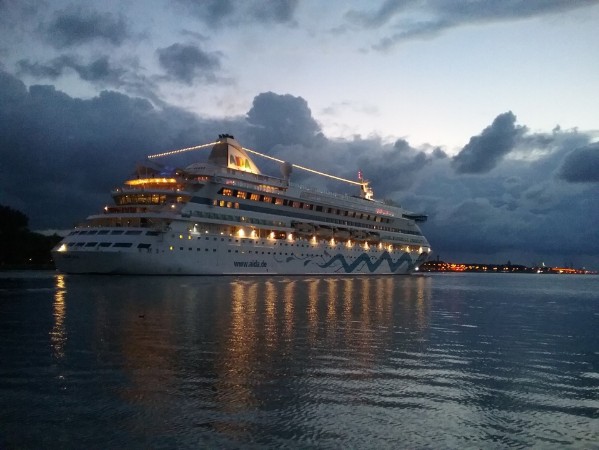 Carreer
The ship was christened at the 12th of april 2003 in the port of Warnemünde/ Rostock in Germany and she had the honour that German supermodel Heidi Klum was going to name her and act as her godmother. The event ended with a large gala-fireworks display, something AIDA Cruises is now really known for. Afterwards, the ship settled in for a worldwide cruise program, visiting The America's, northern Europe, the Mediterranean and even the East and India.
In december of 2007, the ship had a problem with her engines when she came back from an overhaul at Genoa. She had to return to the wharf and her planned first cruise had to be cancelled. In april of 2013, the ship went to Triest for a small update, in which a new artgallery was added, as well as improved childrens facilities. Off course also her interiours were freshed up, not losing her original style.