Scenic Cruises
The company Scenic Tours was founded in 1987 by the Australian entrepreneur Glen Moroney. The company started out as a touroperator based around Melbourne offering coachservices to the coast. Quickly, their tourpackages expanded and from 2008 onwards, the company entered the river cruise market with their first river cruiseships in Europe, the Scenic Diamond and Scenic Sapphire, operating in France most of the time. These ships and the fleet that followed were dubbed the Space Ships as they were very spacious and close to luxurious vessels, different from most more casual rivercruisers in Europe at the time. Of course, the ships were also the first rivercruiseships operated by an Australian company. Very different on these ships as well were the true balconies the cabins had, instead of the normally seen so-named French balconies. The company also has an all-inclusive policy, different from most other lines.
The companies first ship Scenic Eclipse was delayed several times due to severe financial problems at the yard and was finally delivered in the end of july 2019, one year late. She sailed for Gibraltar and later Rotterdam. She is seen here passing Maassluis at the 8th of august in 2019.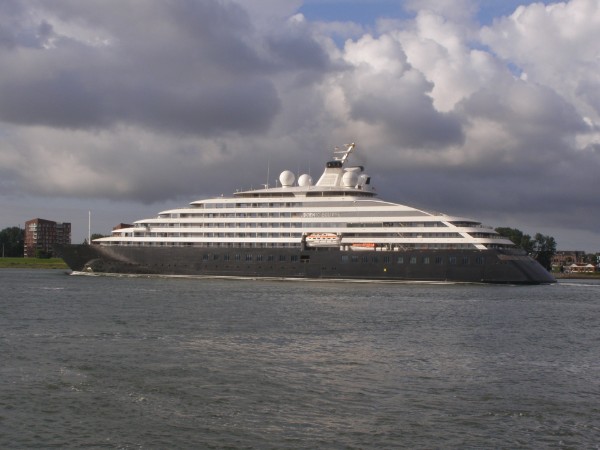 The rivercruise operations expanded quickly, getting the company to offer cruises from the rivers of Europe to the Black Sea, Russia, Myanmar and Cambodia. In january of 2016, the company again took another step as they announced the order for their first oceangoing ship. With this, they followed Viking River Cruises and the long established Phoenix Reisen, who also offer a combination of rivercruises and oceancruises. Also the other way around happened, as Crystal Cruises, who normally sailed only oceancruises, started to explore the rivers. So more and more companies are now combining the both normally separated branches of cruising.
The first oceangoing ship of Scenic was named Scenic Eclipse and was dubbed the first discovery yaught in the world. She was introduced in 2019 after many postponed deliverydates due to financial problems of the Uljanik shipyards in Croatia. The ship truly resembled a megayaught more then a cruiseship and will be followed by her sistership Scenic Eclipse II next year.