Voyages To Antiquity
In 2009, the company Voyages to Antiquity was formed by Gerry Herrod, well known in the cruise industry after he had founded the Orient Lines in 1991 for which he bought the former Sovjet Poet-class ship Alexandr Pushkin and renamed her Marco Polo. She wasn't exactly an expedition-ship as we know nowadays, but Orient Lines had concentrated on the more educated passenger who was interested in culture 'off the beaten path'.
Aegean Odyssey's funnel, with the markings of Voyages To Antiquity.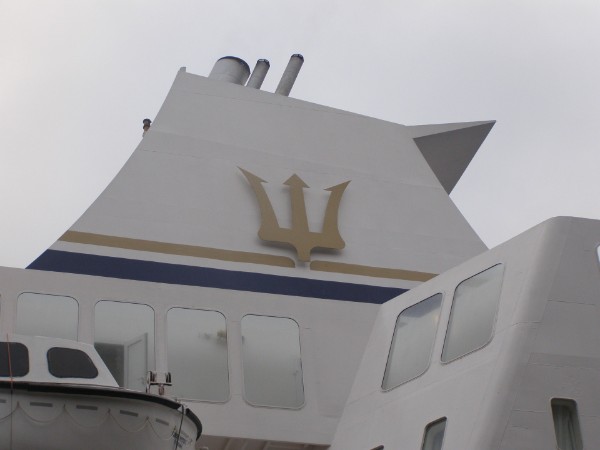 Voyages To Antiquity is based on the same principle, but then the cruises are situated in the Mediterranean for exploration of the classic coasts of Greece, Egypt and Italy. For this, one ship was bought from Dolhin Hellas, the 1973-built Aegean 1 and for the new company she was renamed Aegean Odyssey. The ship was rebuilt and her passenger capacity reduced from over 500 to just 350. Traditionally, the company sails in the Mediterranean, the Red Sea and around the northern part of Africa. The company loves traditions, but still does away with a formal style. So there are no black-tie evenings as they concentrate on the more casual way of exploring the ancient cultures of the Mediterranean.
For more information, visit the website of Voyages To Antiquity