FTI Cruises
FTI is one of the largest German touroperators and started trading in 1983, at that time without cruise-activities. Their involvement in cruising started in 1995, when they became the owners of the Austrian company Air-Maritime Seereisen, who were a travelagency specialized in cruises. In 2007, FTI sold this company again and ended their cruising aspirations for the time being. The company FTI itself was bought by Airtours/ My Travel in the year 2000 and FTI concentrated on its own airline and hotels after this deal, although in 2003 due to payment difficulties and insolvency from My Travel FTI was bought by a German investor with the name Dietmar Gunz.
Seen in Bergen, Norway at the 11th of june in 2015, Berlin is shown docked at the right, when her former Peter Deilmann fleetmate Deutschland arrives. Deutschland at the time was sailing in a short charter for Plantours & Partner.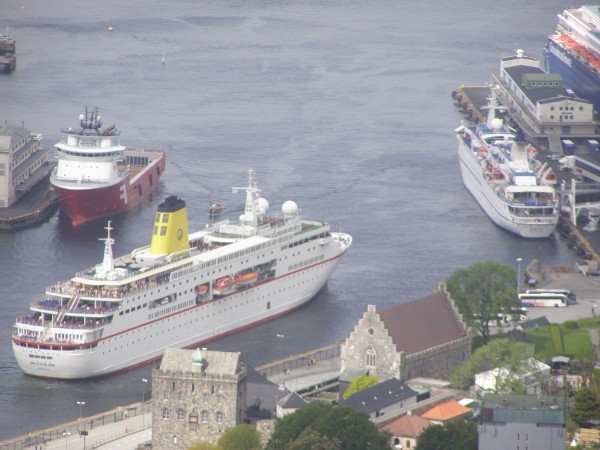 From may 2012 onwards, FTI started sailing with a cruiseship under their own name after they had bought the Spirit Of Discovery from Saga Holidays. This ship was formerly the German-owned Berlin and had been sailing as the first ship for Peter Deilmann Reederei. The company FTI concentrates itself on the German cruisemarket, although the ship sails worldwide itineraries. For the management of the ship, FTI firstly worked together with V-Ships, the Monaco-based former owner of Sitmar Cruises that was sold to P&O in 1988. From 2018 onwards, managent was awarded to Columbia Cruise Service who now provide the staffing and general management of the ship. In 2015, totally opposite to the rest of the industry, the ship had already lost the FTI-prefix in her name and was reverted to her former Peter Deilmann name Berlin.