The Norwegian Fjords are known worldwide because of their outstanding natural beauty and because there is no place like it in the rest of the world. Everyone you ask about what to find in Norway will say Trolls and Fjords. As cruiseship enthousiast
we
will also say we know the Norwegians as pioneers in Caribbean cruising because several worldfamous cruiselines like
Royal Caribbean Cruise Line
and of course
Norwegian Cruise Line
do have their roots in this long Northern European country. Within their inspiration to set up these cruisecompanies they had also their own shippinghistory in mind, I think. With so much coastline as they have, it is very tempting to built ships and sail around it.
The Hurtig Ruten (many write it down as Hurtigruten but it are two seperate words) started in 1893 after an idea from the countries shipping advisor August Kriegsman Gran. The meaning of the name Hurtig Ruten is 'the fast route'. The route was offered to two companies, NordenfjeltskeDampskibsselskap and Det Bergenske Dampskibsselskap but they rejected it because they thought it was impossible.The new Vesteraalens Dampskibsselskap (now OVDS; the 'O' standing for Ofotens) started this service because they believed in it and they are still here, joined by Troms Fylkes Dampskibsselskap later on. Their most important role was to carry mail and goods along the coastline to a lot of ports that were barely reachable by land. This route was of significant importance to the small seaside towns of the country, because it was one of the only ways to get supplies and food. Also, these first ships were able to carry a few passengers, but this was not their most important role, at least in the beginning. Although being one of the most uneasy to reach places of the country, this route became known as 'Highway 1' in the country and this makes clear its importance.
Over the years, these towns at the fjords became more easy to reach by road and railway and the role of the Hurtig Ruten changed but stayed vividly alive. The route became a major tourist attraction, offering cruises along this lovely shoreline, and it still is the best way to see the fjords. Still sailing with mostly elderly steamers, TFDS and OVDS started a huge rebuilding program in the 1990's to keep up with the growing demand for Norwegian Coastal Voyages (a name where the companies are also known by outside Norway). Two classes of ships were built, the first one started with the Kong Harald for TFDS in 1992 and the Richard With for OVDS in 1993. These were followed by Nordlys (1993) and Polarlys (1995) for TFDS and Nordkapp (1995) and Nordnorge (1996) for OVDS. All these ships do have the same exteriour looks..
The second class are three ships, all built for TFDS. In 2002
Finnmarken
and
Trollfjord
were added to the fleet, followed by
Midnatsol
in 2003. These ships are somewhat bigger then the earlier ships, and can carry some more passengers too. Besides this new ships, there are also still some older ships sailing. In the 1980's the fleet was extended with a class of three, the
Midnatsol
and
Narvik
of 1982 followed by
Vesteralen
in 1983. They have been sold to other operators nowadays. As you can see, this Northern fleet is really big. But it is still a very important way of transport in Norway, and to serve the 2.500-mile route between Bergen to Kirkeness these ships are simply needed. A voyage takes 12 days to complete in total and besides that, these ships call at thirty-four ports!
In 2007 the new Fram was added to the fleet. This newly designed ship is smaller then the 1990-built ships and is especially designed for voyages to Greenland. Besides the Norwegian Coastal Voyages, the ships of the Hurtig Ruten also sail Northern European cruises, sometimes. When the Olympic Winter Games were held in Turin in 2006, Midnatsol was send there as an accomodationship and on her way to Italy she visited some Western European cities also.
In march of 2006, OVDS and TFDS merged under the banner of Hurtig Ruten only. The seperate names of both companies disappeared and the ships were also given new funnelcolours as seen in the picture of Fram below. I took the picture on a rainy day at Rotterdam during her maiden voyage from Barcelona to Oslo.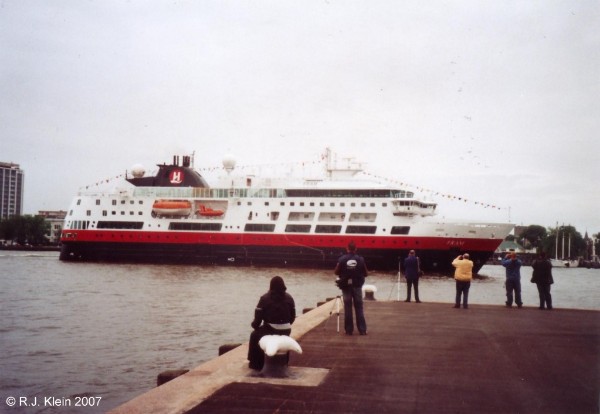 Fram was not built in Norway, but in Monfalcone, Italy. Her tonnage is 12.700 and she is 114 meters long. She can sail at 16 knots and 348 passengers with cabin and 152 dekpassengers can enjoy her eight decks.On the 30th of april 2007 her deliverycruise took her from Barcelona via Western Europe to Oslo.
A few ships that have sailed earlier for Hurtig Ruten are also placed at castlesoftheseas.
Harald Jarl
(1960-2002) is placed as
Serenissima
under Serenissima Cruises
Mitnatsol
(1984-2003) is placed under Lindblad as
National Geographic Explorer
.
Lyngen
(2005-2007) see above as
Midnatsol
For booking information, visit the website of the
Hurtig Ruten
.