Sea Cloud Cruises
The basis for the company Sea Cloud Cruises was laid out by Hamburg businessman Hartmut Paschberg, when he bought the sailingship Antarna at the end of 1978. Paschberg aquired the 1931-built ship together with several other Hamburg-based people and companies. At november the 15th 1978, Paschberg and 32 others sailed the ship into the port of Hamburg, where she was to be rebuilt at the Howaldtswerke-Deutsche Werft as a cruiseship in the luxury but informal segment of the industry. For this, the ship was named Sea Cloud. Between 1935 and 1955, the ship had already operated as a personal yaught under this name. Also, she had seen warduties in the second worldwar under the name USS Sea Cloud and as such, she made great improvements to the US Navy, as can be read on her page.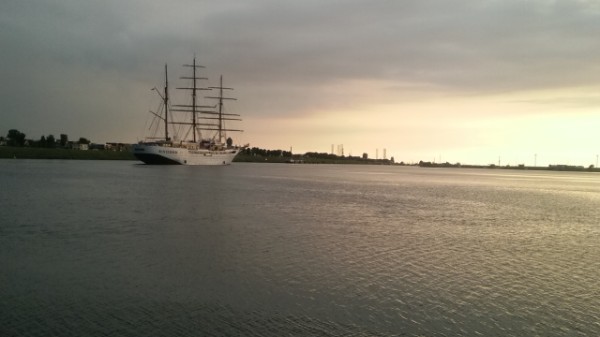 Sea Cloud II past IJmuiden at the 16th of june 2016 and sailed off into the sunset.
In 2001, the company added a second ship that really resembles the 1931-built yaught. It was impossible for the company to stay just a one-ship operation, mostly due to economic reasons, and that is the reason they added a second ship. The new ship was named Sea Cloud II and after some problems during her introduction, doubled the companies capacity.
Next to those two sailingships, the company also owns two rivercruiseships under the names of River Cloud I and River Cloud II.