Black Watch (III)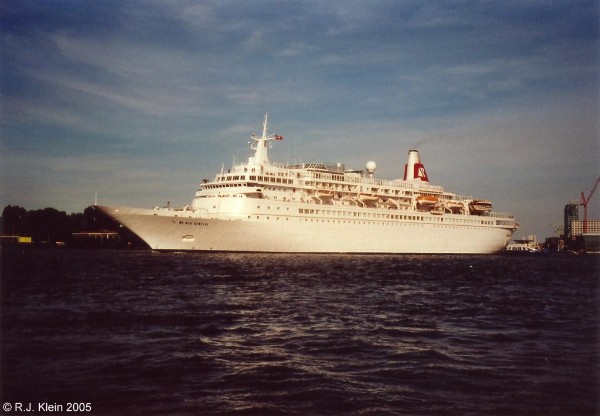 Black Watch departing Amsterdam at the 26th of june of 2005.
At the 12th of may 1971, the first ship for the newly formed Royal Viking Line was launched from the Wärtsilä yards at Helsinki, Finland. The ship had been built as yardnumber 395, but was now named Royal Viking Star. She measured 21.874 tons, had a lenght of 177,70 meters, a width of 25,20 meters and a draft of 7,55 meters. She could sail with 539 passengers ataround 21 knots. The ship has eight decks available to her passengers and she was registered at Norway, with Oslo as her homeport. Although Norwegian owned, the ship would mostly sail worldwide, varied cruises ranging from short cruises of a few days to long 100-day worldcruises. When built, she was a very upmarket ship. Together with the Norwegian America Liners Vistafjord and Sagafjord, she was among the most luxurious ships afloat. Two more ships followed her, in 1972 Royal Viking Sky was introduced and in 1973, Royal Viking Sea. All ships were identical and built at the same wharf in Finland.
Just ten years after her introduction, because of the success of the line, the ship was lenghtened at the Lloydwerft in Bremerhaven, Western Germany from the end of august 1981 onwards. There, she recieved a new midsection and after being sliced in half, this was put in place. She was now some 28 meters longer, increasing her lenght up to 205,47 meters and her tonnage to 28.221. Of course, this was done so her passengercapacity could increase too. Now, she could sail with up to 758 passengers, a few years later, in 1984, this was increased agian to 829 passengers. But the ship had been popular, just because of her luxury and low amount of passengers before. This stretching and increasing wasn't feeling well for her many repeat passengers and it didnt help also that in the 1980's, more luxurious ships were built that were small and intimate, like the two Sea Goddess ships for Sea Goddess Cruises (yes, again Norwegian). Royal Viking Line lost a lot of customers because they increased, and of course the costs went up. The 1980's were not that good of a decade financially too, so the line was bought by the Norwegian company Kloster Cruise, the owner of the Norwegian Caribbean Line, because it was impossible to survive alone. Just before, the line tried to merge with Norwegian America, bringing two very upmarket lines together as an enlarged Royal Viking Line, but this deal failed.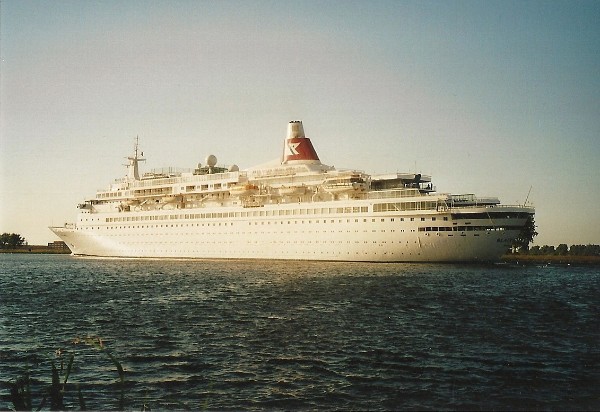 Black Watch also seen at the 25th of june 2005, sailing the Northsea Canal.
In april 1984, Royal Viking Line was added to the Kloster group as a seperate identity next to NCL. A few years later, in 1988, the ship lost her Norwegian registry, now she was flying the flag of the Bahamas, with her new homeport being Nassau. This was changed in the entire fleet of Kloster, so all ships lost Norwegian registry. It was also the year that the first newbuilt since the introduction of the first three ships was added to the fleet, the modern Royal Viking Sun. Standards for luxury had been changing throughout the industry, so this new ship was supposed to bring the Royal Viking Line back where it was to be. The three sisters from the beginning were almost 20 years old and clearly aging. From te beginning of the 1990's onwards, it seemed more appropriate to place the original trio of ships in other parts of the Kloster family, because Royal Viking Line introduced another luxury ship, the Royal Viking Queen. This ship had originally been ordered for the Seabourn Cruise Line, but later transferred to RVL. In april 1991, Royal Viking Star was renamed Westward and now she sailed for Kloster's most important company, Norwegian Caribbean Lines. This was only for a short while, as she was again transferred within the Kloster Group to the Royal Cruise Line as Star Odyssey. Here, she met also her RVL sister Royal Odyssey, the former Royal Viking Sea. In these years, Kloster was in financial very bad weather and to keep their heads above watr, they had to scale down. Royal Cruise Line was closed in october 1996 and the Star Odyssey was sold to Fred. Olsen Cruise Lines, originally a Norwegian company that sailed mostly European cruises for a classic clientele. Royal Viking Line too was sold, together with the only ship still sailing under that name, Royal Viking Sun, to the Cunard Line. Kloster only had Norwegian Caribbean Lines under its name now, and this company was shortly afterwards renamed Norwegian Cruise Line and was also sold to Star Cruises of Maleysia in the year 2000.
For Fred. Olsen, the former Star Odyssey was rebuilt without loosing her classic appeal, and she was renamed Black Watch for them, the thirth time the compamny used that name in its long history. They also brought her back under the Norwegian flag, her homeport became Hvisten. Her first Fred. Olsen cruise started at the 15th of november, 1996. Since then, she has been an important part of the steadily growing fleet of this purely European company and now sails for them 17 years already, almost as long as the time she served the Royal Viking Line. In 2005, the ship was drydocked for two months at Blohm & Voss in Hamburg and updated and refurbished. Today, she is one of the last examples of classic shipbuilding and Fred Olsen seems to be keeping her in a great shape. That the company is very content about the ship, was clearly shown when in 2006, the Fred. Olsen fleet was enlarged with the former Royal Viking Sky, that entered Fred. Olsen service under the name of Boudicca. These ships are today well over their forties but it seems very unlikely that they wil leave the worlds cruisingfleet soon.
A nice co-incidence happened at the 17th of may 2015, when Black Watch was in the Norwegian port of Bergen at the same day that Viking Ocean Cruises named their first ship Viking Star. Viking Ocean Cruises comes forth out of Viking River Cruises, the largest operator of rivercruises in Europe and a very fast growing company. In 2013, the company had announced that they were going to start an ocean-going company too. The company is headed by Torstein Hagen, the former CEO of Royal Viking Line. The names of the ships of Viking Ocean Cruises are also inspired by RVL so it was very pleasing to have the 'old' Royal Viking Star and the new Viking Star together at the ceremony.
In the early hours of july 1st, 2016, Black Watch suffered a fire in the auxiliary engineroom when sailing on a 13-night Portugese Islands & Cities Cruise. The ship was close to Funchal and limped back into port. There were no injuries among passengers or crew and repairs were carried out in Funchal. One following cruise had to be cancelled.