Azamara Quest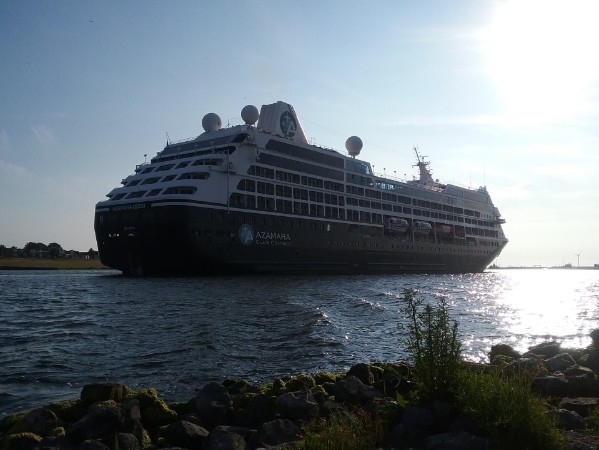 Azamara Quest passes the Velsen ferry at the 24th of july 2016.
Azamara Quest was originally launched as the seventh member within the eight-ship R-class for Renaissance Cruises as R Seven. As her sisters, she measures 30.277 tons, has a lenght of 181 meters, a width of 25,50 meters and a draft of 6 meters. She was built as yardnumber Z31 at the Chantiers de L'atlantique wharf at Saint-Nazaire, France and was delivered to Renaissance Cruises in november of the year 2000. The ship has nine decks available to a maximum of 824 passengers, sometimes also the amount of 684 passengers in given, meaning the number based on the lower berths. Also, 373 crewmembers take care of them for an unforgettable experience.
For Renaissance Cruises, the ship sailed cruises around northern Europe. At the 15th of september of 2001, she was present at Le Havre in France, when the former French transatlantic liner France was in port under her name Norway. Because of the great number of people that came to see the ship that was once the pride of the French merchant marine, meaning Norway, also R Seven was able to show herself to a lot of people in her Renaissance disguise, because just a few weeks later, the ship was laid-up at Gibraltar when her company was declared bankrupt of the 25th of that month. The company was in financial bad weather for some time, but the terrorist attacks in Washington and New York on the 11th of september gave the final push.
I have to appology for the bad quality of this picture, but because of the ships history I wanted to add it anyway. The weather at Le Havre was very, very bad, but it is the only picture I have with both R Seven and Norway present.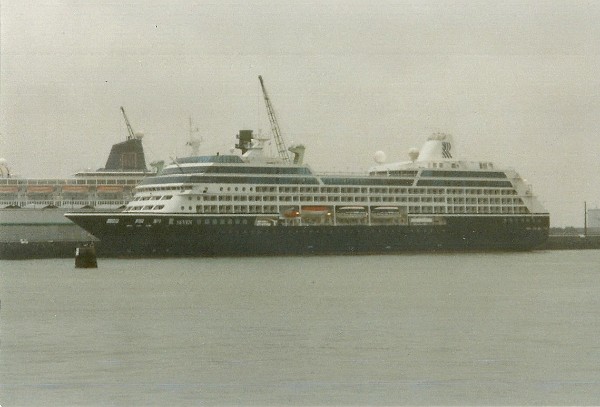 R Seven was laid-up at Gibraltar after she had disembarked her last passengers and she was taken over by Cruise Invest, a company that had been formed by her builders to try and get some money back to the creditors by selling, leasing or chartering the ships of the defunct line. In 2002, the ship was planned to be leased to a new Asian company named Imperium Cruises, for whom she was to be named Goddess Nayna. This never happened, as the deal collapsed at the 18th of april of 2002. Instead, she kept being in lay-up at Gibraltar untill she was finally chartered to Delphin Seereisen, a German firm that wanted to use her as a replacement ship for the Delphin, that was their original ship. From december 2003 onwards, she sailed for Delphin Seereisen and for them she was renamed Delphin Renaissance, remembering her original company. The company was really content about the ship and wanted to use her for a number of years, but when in 2006 all former Renaissance Cruises ships were sold, Cruise Invest got an offer from the Spanish company Pullmantur Cruises to buy the ship. So the charter to Delphin Seereisen was ended from the 19th of december 2005 onwards, to great dissapointment of the German company.
Below, the ship is shown as Blue Moon, sailing for Pullmantur in a livery that is almost exact her original Renaissance Cruises colourscheme. Of course you have to look through the funnelcolours and the large lettering at the ships side, but still, she reminded me of the Renaissance ships when she past at this 27th of may, 2007.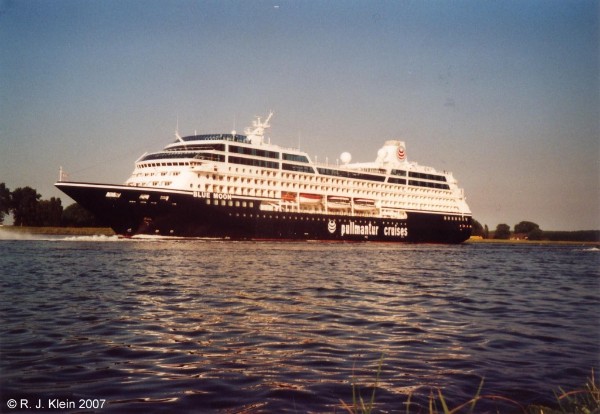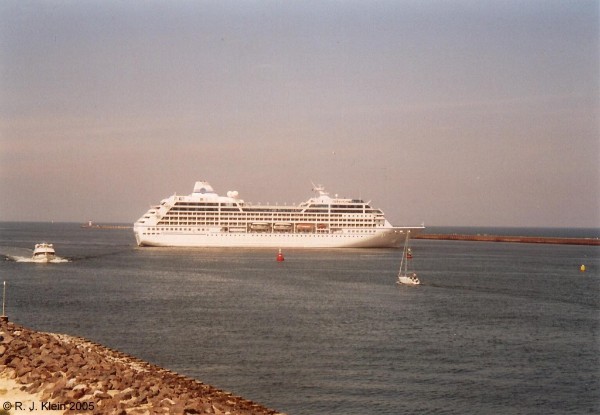 Above, the ship is shown under the name Delphin Renaissance, sailing for Delphin Kreuzfahrten of Germany. She is seen preparing to dock at IJmuiden at the 29th of june, 2005.
Her first cruise for the Spanish company started in june 2006 and she visited Amsterdam several times as the first Pullmantur Cruises ship in the companies history. A few months after the ship had been bought by Pullmantur, that company itself was bought by Royal Caribbean International. This was done, because the Spanish market seemed to grow and it gave Royal Caribbean the opportunity to loose older tonnage that was becoming surplus in the main fleet. Of course, this also had consequences for the fleet of Pullmantur, as Blue Moon was to be transferred to the brand of Celebrity Cruises, also a part of the Royal Caribbean Cruise Lines. Blue Moon had always been a very upmarket ship and seemed not right in the fleet of Pullmantur. So her new name was planned to be Celebrity Quest and being a smaller ship, she was to be some sort of expedition vessel within a new company-part named Celebrity Xpeditions. With her, also the former Renaissance Cruises ship R Six, that was sailing for Pullmantur as Blue Dream from 2004 onwards, was to be placed into this new fleet, renamed as Celebrity Journey. But shortly before the transfer of both ships, Royal Caribbean Cruise Lines announced that they would not be transferred to the Celebrity Xpeditions brand and that a totally new company named Azamara Cruises was to be founded for them. Azamara Cruises was to be an upmarket company, just as Celebrity Cruises, but more or less into normal cruising instead of expedition cruising. Of course the ships were also renamed in style, so Blue Moon was eventually renamed Azamara Quest for the new company. Also her sister was renamed in this manner of course, becoming the Azamara Journey.
Her first Caribbean cruise under her new name started at the 22nd of october of 2007 when she departed Miami. At the 30th of march 2012, she suffered an angineroom fire off the coast of Borneo, in which six persons were injured. She came back into service after repairs at the following 24rd of april.