Norwegian Sun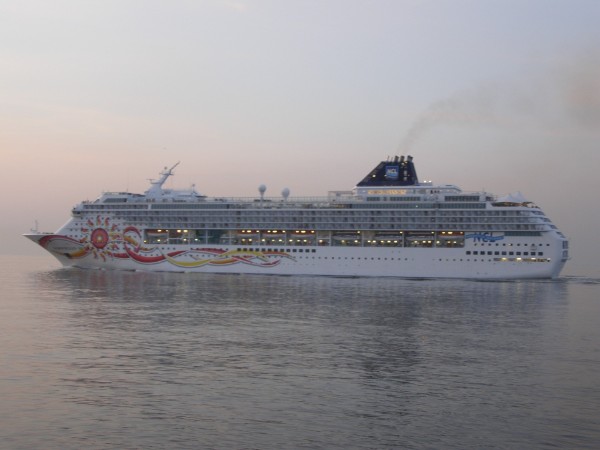 Norwegian Sun leaving IJmuiden after her first visit to The Netherlands at the 6th of may 2011.
In the early 1990's, Costa Cruises from Genoa ordered a class of two ships from the Bremer Vulkan wharf in Germany. These ships would measure some 75.000 tons and they would recieve the names Costa Victoria and Costa Olympia. The first ship, Costa Victoria, was delivered in 1996, although the wharf was in severe financial difficulties. This caused that work at the second ship, though 35% complete, was halted. On the 6th of october 1996, the ship was floated out and Costa decided to sell the unfinished ship and did not choose for finishing her at another wharf. Norwegian Cruise Line jumped in and bought the ship, and had her finished at the Lloyd Werft at Bremerhaven as the Norwegian Sky. Costa had planned to bring her in service in 1997, but due to the delay, she was delivered to NCL in june 1999. Around the time Norwegian Sky came into service, NCL had ordered a second ship of the same design, only slightly bigger and this ship was also built at Lloyd Werft under yardnumber 109 and would become the Norwegian Sun. Lloyd Werft had the hull of the ship built under a subcontract at the Aker MTW wharf at Wismar under yardnumber 005.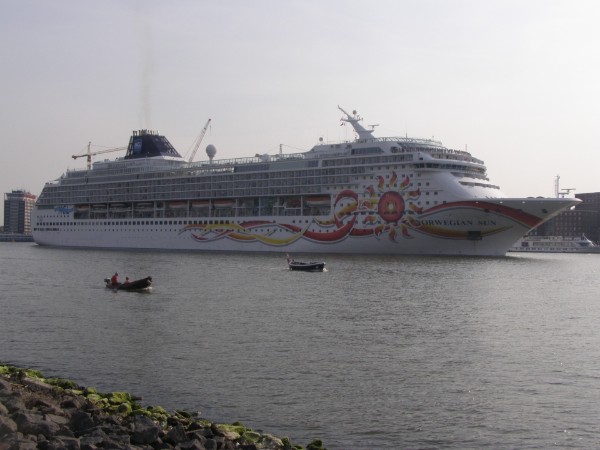 The ship measures some 78.309 tons and she has a lenght of 258,47 meters, a width of 32,29 meters and a draft of 7,92 meters. Her maximum passenger capacity is 2450 in 968 cabins, of which 70% is outside. The crew capacity is 950 and they are housed in 482 cabins. The topspeed of the ship is some 23,6 knots, although the normal service speed is 22,6 knots.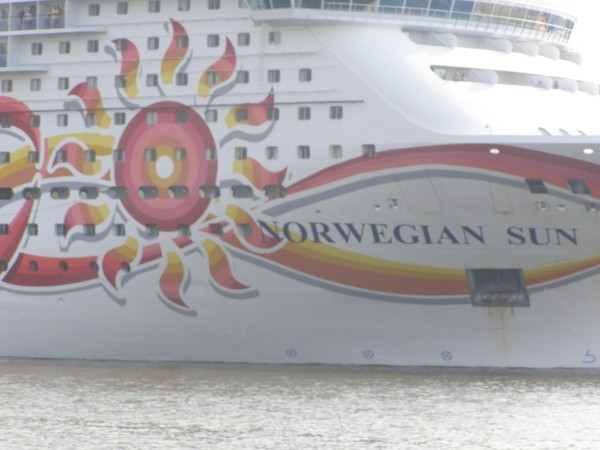 The hull-art of the Norwegian Sun, of course, a big sun..
The ship floated out under her name Norwegian Sun at the 23rd of september 2000 and had her seatrials between the 19th and 23rd of august 2001. Trials were succesfull and the ship was delivered to NCL at the 31st of august of 2001. For NCL, she was designed under a new program called freestyle cruising. This meant that NCL threw overboard traditional cruising, where passengers had to eat at fixed times, pools could not be used at several times and all kinds of other rules the passenger have to follow while on holiday. NCL wanted to create a true holiday-atmosphere, where passengers could choose their own dining times, their own table's, their own entertainment and so on. Freestyle cruising was a program that was totally new for the cruising industry and was meant for NCL to regain some of their former pride. For the passengers,some 11 restaurants were available in many different types, French, Italian or Spanish cuisine, and also there is a steakhouse aboard.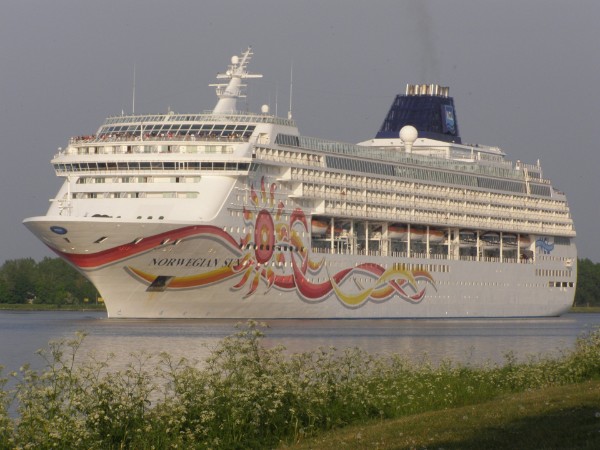 At the 3rd of september 2001, she sailed from Bremerhaven to Southampton and from there she started her first cruise to New York. The ship was named in Miami in a dual naming ceremony, together with Norwegian Star at the 20th of november 2001 and started Caribbean cruising after that. In this naming ceremony, Norwegian Sun was named by Brooke Burke, an American TV personality, model and dancer and Norwegian Star was named by Angela Baraquio, Miss America 2001.
Below, the Norwegian Sun sets into the sunset off to her next destination on this European cruise.