Discovery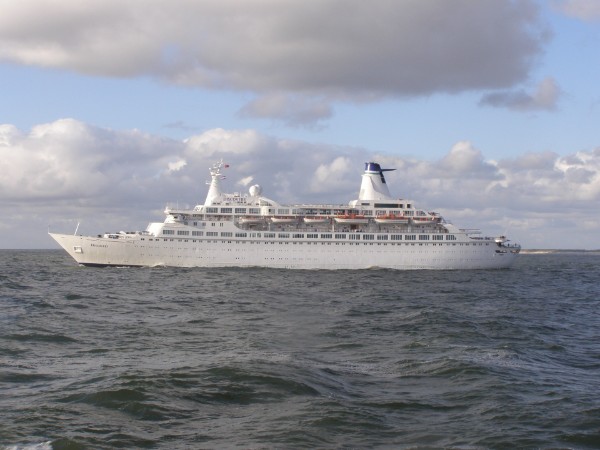 Discovery seen between the pierheads of IJmuiden at the 12th of may 2012. Still looking very smart, she was sold for scrap two years later.
Discovery was built as Island Venture, the second twin for a company called Norwegian Cruiseships, which was a joint venture between Fearney & Eger and Lorentzen. After completion, she was chartered to Flagship Cruises, as was het sister Sea Venture. The ship was built at the Rheinstal Nordseewerke at Emden in Western Germany as yardnumber 414. She had a tonnage of 19.907, a lenght of 168,74 meters and she was 24,59 meters wide. Her draft was 7,5 meters. The ship was designed for 767 passengers who were accomodated in 324 cabins, as well as for 317 crewmembers.
The ship was named at her homeport Oslo at the 14th of december 1971, after she took to the water a few months earlier, at the 6th of march 1971. Finally delivered at the 4th of january 1972, she set sail for her proposed cruiseroute, the same as her sister, between New York and Bermuda. Within a year, Flagship Cruises noticed that the service was not attracting enough passengers to fill their two ships, so Island Venture was chartered out to another relatively new cruiseline founded by American Stanley McDonald in 1965, Princess Cruises. This company sailed only with chartered ships, but was becoming more popular each year so the older ships used by them were not suitable anymore. The new Island Venture, who was renamed Island Princess for them, could just be the trick they needed.
Her first cruise for Princess Cruises started at the 18th of december 1972 and took her from San Fransisco to Hawaii. Princess Cruises mostly operated route's from the westcoast of the United States to Hawaii, Alaska and Mexico. She became an instant succes to het new charterers and two years later, when the large P&O Group aquired Princess Cruises from McDonald, they also bought the ship. Also her sistership, at that time still sailing for Flagship Cruises, was bought by P&O and placed in the fleet of Princess Cruises as the Pacific Princess. The two modern and certainly very good looking twins were very important in those first Princess years for their new owners and in 1976, when Princess Cruises was asked to be the hosts of a new television series, they were to be the stars. At first, Princess Cruises didn't care much for the series because they thought the show, called 'The Love Boat' would be too sexually orientated and could give a wrong idea about their ships. But, as we all know, this was hardly the case so Princess agreed and 'The Love Boat', starring mainly Pacific Princess and Island Princess, was a true gateway for the whole of the cruise-industry tot the mass-market of tourism. Because of their involvement, the handsome twins became more loved still and Princess Cruises kept them within their fleet for a very long time.
Discovery on the same day, just before she departed from the newly constructed port at IJmuiden. IJmuiden is a fast growing cruiseport in The Netherlands, because ships avoid the long haul through the Northsea Canal to Amsterdam. This saves a lot of time and money, and Amsterdam is easily reached by tourbus within an hour.
When Princess Cruises was growing rapidly and new ships were added with a lot more to offer their passengers, the smaller ships were likely to be taken out of service. Still popular because their Love Boat connections, it was not difficult to find new owners. Island Princess was the first to go, and she was sold in 1999 to Ringcroft Investment and chartered to Hyundai Merchant Marine from South Korea. For them, she was renamed Hyundai Pungak and she started sailings in the Far East. The fleet of Hyundai was quickly bought together and consisted out of three ships, but this was soon to be found too much for the new venture. In 2001, the ship was therefor taken out of service and laid-up, waiting for a new buyer to show. This did not take too long again, because she was bought in the same year by well-known Gerry Herrod, once the founder of Orient Lines, and renamed Platinum. She was extensively rebuilt in Turkey to be up-to-date for her new role of South American cruises in winter for Herrod's Discovery World Cruises and educational summercruises for Voyages of Discovery. In 2004, Gerry Herrod retired and the ship now only sails worldwide cruises under the banner of Voyages of Discovery, after the two companies merged. Discovery started sailing for the British-based Cruise & Maritime Voyages from the beginning of 2013 onwards, replacing the Ocean Countess. With her sister leaving to the breakers after a lenghty lay-up in the same year, it was expected that also Discovery wouldn't last long anymore. At the 27th of september of 2014, she departed on her last 9-day cruise for CMV Cruises, before she set sail for Falmouth and Gibraltar, on her way to Alang, India to be following her sister to the ovens under her last name of Amen.