Clipper Adventurer
The Clipper Adventurer is a small expeditionship that was built under yardnumber 408 by Brodogradiliste Taljovo in Kraljevica, situated in the former Yugoslavia. The ship was launched at the 19th of april 1975 for the Sovjet-based Murmansk Shipping Company and mainly sailed expedition-like voyages from the port of Murmansk in Arctic waters since 1976. The ship measures 4376 tons and has a lenght of 100,01 meters. She is 16,24 meters wide and her draft is 4,65 meters. Aboard, there is space for 122 passengers and 84 crewmembers on 6 decks. Her normal sailingspeed is around 14 knots.
The ship is part of a class of four. Her sisterships were named Maria Yermalova, launched in 1974, Lyubov Orlova, launched in 1976, and Klavdiya Yelanskaya that was launched in 1977. Clipper Adventurer was originally built under the name of Alla Tarasova.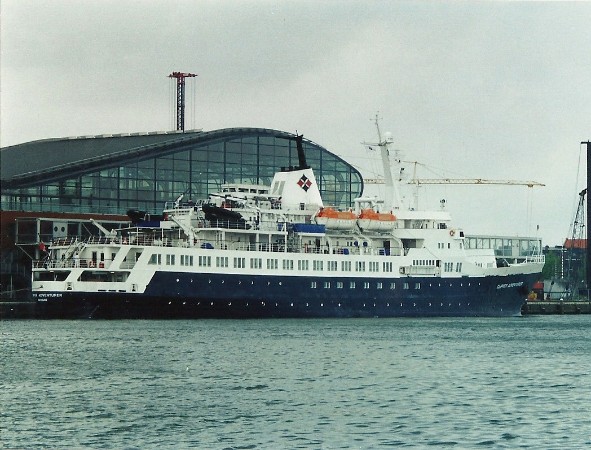 Clipper Adventurer shown when she was sailing for Clipper Cruise Line and visited Amsterdam at the 30th of may 2002.
When the Alla Tarasova started her sailings, she was measured somewhat smaller with a tonnage of just 3941 and her passengercapacity was higher, 262. The ship suffered an engineroom fire when sailing between Leith and Kirkwall in 1996, that held her out of service for just over one week. It was the only incident aboard untill the ship was sold to the Clipper Cruise Line in 1997. Her homeport, that had been Murmansk since her debut, was changed to Nassau so she now sailed under the flag of the Bahamas. It was also now, that Alla Tarasova was renamed Clipper Adventurer. She was rebuilt to her current specifications in march of 1998 at the Fredericia Skibsvaerft in Fredericia, Denmark. Her first cruise after the rebuilding started at Lisbon, Portugal at the 8th of april 1998.
As expeditionships sometimes sail in seas that can be a little hazardous, also Clipper Adventurer befell several mishaps. In january of the year 2000, the ship got stuck in an icefield close to Deception Island, Antarctica. The Argentinian icebreaker Almirante Irizar came to the rescue and got the ship free again, luckily with just minor damage. A few years later, at the 28th of november of 2002, she again got stuck close to the same island but again not much damage was reported. Then, at the 27th of august 2010, she hit an underwater reef close to Coronation Island and this time it looked more serious so her passengers were evacuated. The ship was only freed at the 14th of september and sailed for repairs to Poland. Only in the beginning of 2011, she again was ready to sail.
Meanwhile, in january of 2006, the Clipper Cruise Line was bought by First Choice, the company we know from Festival Cruises that had gone bust just a few years earlier. In november, First Choice also bought the expeditioncompany Perigrine Adventures and both companies were merged into a new one under the name of First Choice Expedition Cruising. In 2012, the ship was bought by Quark Expeditions and renamed Sea Adventurer.
In june of 2017, Sea Adventurer recieved a major overhaul, where-in all her engines were replaced with new Rolls-Royce engines that have huge environmental advantages. Also, new cabins and suites were installed and the ship also recieved a total upgrade of the cabins and public spaces. Next to this, she was renamed Ocean Adventurer in line with most of the rest of the fleet.