Heritage Of Steam
The introduction of steam-powered vessels was the starting point ot a new era in seatravel. Without this new technology, the big steamships of the past would not have existed. Next to my enthousiasm about modern and classic cruiseliners, I have a great passion for historic steamvessels still sailing today in different shapes and sizes. The main part of this website is including a few steamhips, like the 1948-built Waverley, the 1958-built Rotterdam and the 1960-built Norway. Other ships started life as a steamship, but were later reverted to diesel like Queen Elizabeth 2. But most of the ships featured are modern motorships and they replaced the steamvessels totally, like the steamships once brought an end to the sailingships. But there still are great sailingships around, also older ones. This is of course the same with steamships, because a lot of them still sail on, looked after by highly devoted enthousiasts who are keeping the heritage of steam vividly alive.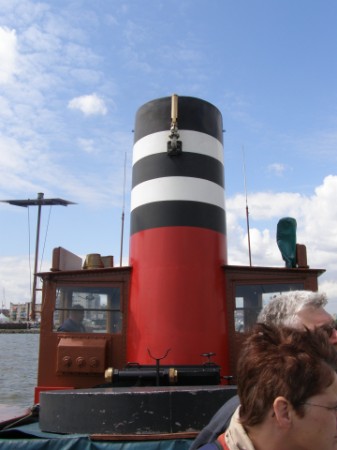 In The Netherlands, we can be proud to have one of the largest fleets of historic steamvessels in the world. These ships are not just used as museumpieces, but they are actually sailing. Most of these ships are traditional steamtugs, like they were used throughout the late 19th century and well into the 20th century untill their part was played and they were replaced by the modern tugs we see today. Next to this text is the funnel of the Dockyard V, a tug used by the Rotterdamse Droogdok Maatschappij, the wharf who built the Nieuw Amsterdam of 1938 and the Rotterdam of 1958 for Holland America Line.
Included in these pages, is the oldest steamtug sailing in Europe, the 1873-built Rosalie. Besides the steamtugs, there also are some larger steamships afloat, some also with a history in passenger shipping.
In this new part of Castles Of The Seas, I will show a part of this still active fleet of steamships sailing the Dutch waterways and I hope you will enjoy this new addition to the site. Some of these ships do have a remarkable link to the oceanliners of the past, like the Succes that has the last remaining chandelier of the first class lounge of the oceanliner Willem Ruys (1947) in her passengersalon.