Nordic Jet
This small fast-ferry was built in a class of five. She was thirth in line, following Solidor 3 that was launched in 1996 and Baltic Jet of 1998. After her, two more sisters followed, in 1999 Nasser Travel was launched and the last one was Solidor 5 in 2000. The ships were built for Emeraude Lines and Nordic Jet Line
Nordic Jet was launched from the Kvaerner-Fjellstrand wharf at Omastrand, Norway under yardnumber 1646.Her homeport was Bergen in Norway and she measeures some 2273 tons. She is 60 meters long, 16,50 meters wide and her draft is 2,90 meters. Her servicespeed is 38,5 knots, but her maximum can be 40,5 knots and there is space aboard for 428 passengers and 55 private cars. The ship has one passengerdeck, where passengers are seated in an aircraft-like style, and one cardeck. On her passengerdeck, there is also a duty-free shop, a receptiondesk and a cafetaria, making the trip more pleasant.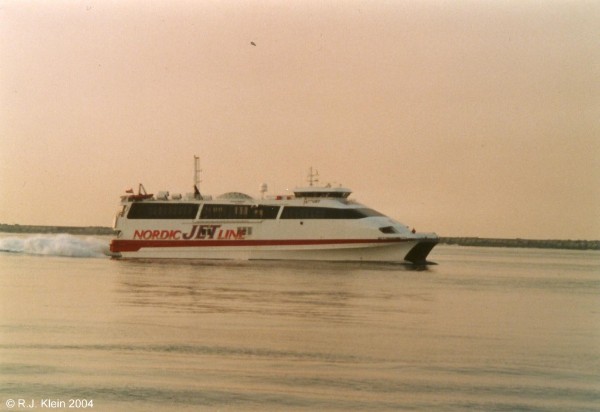 Above, Nordic Jet can be seen entering the port of IJmuiden during her positioningvoyage in april 2004 after her first season for FRS Maroc.
The ship was delivered to Nordic Jet Line in july 1998 and she started sailing the route between Helsinki in Finland and Tallinn in Estonia.At the 1st of september 2003, the ship was chartered to the Moroccan part of Ferrys Rapido del Sur, a Spanish Moroccan company that sailed the route between Tarifa in Spain and Tanger in Morocco. She only sailed this route during the wintermonths, because in april 2004 she was again taking up her former Baltic route. While re-positioning, she made an extra stop at IJmuiden because those long haules along the coast of Europe was not really what she was designed for and she had to bunker. In the winter of 2004, this time from november onwards, the ship again sailed for southern Europe for the Tarifa to Tanger route, which she sailed untill april 2005. From then on, she was sailing another route in the Baltic for Nordic Jet Line, this time she departed Helsingfors for Tallinn. She now sailed this route for three years, before the ship was renamed as Ceuta Jet for new services in the Mediterranean from august 2008 onwards. Now, her owners are Express Ferries Limited, although the ship sails for the operating company FRS Iberia. For them, she was taking up sailings between Algeciras in southern Spain to Ceuta, the Spanish enclave in north Africa. For this, her homeport changed to Limassol so she now sailed under the flag of Cyprus. Next to the three route's FRS is sailing in the Mediterranean between the south of Spain to Morocco and Ceuta, the company also operated a fast-service between Hamburg, Wedel, Cuxhaven and Helgoland in northern Germany.