Iberocruceros
Iberocruceros is the new name for the former cruise division of Iberojet, that is a part of the Orizonia Corporation, the largest travel organization in Spain. In 2007, to devellop the Spanish market in cruising, Carnival Corporation and Orizonia formed a new company out of Iberojet, in which Carnival owned 75% and Orizonia the remaining 25%. From the Iberojet fleet, the Grand Mistral and Grand Voyager entered the fleet of Iberocruceros and Carnival provided the Grand Celebration, one of the oldest ships within the fleet of Carnival Cruises. One of the main reasons that the big companies like Carnival and Royal Caribbean are entering those specific markets, is to have a way of replacing older tonnage from the leading fleets into new ventures. This way, their ships will not become parts of other companies, but remain under the same control. On the other hand, several markets are really growing and those are in need of large ships, like the Spanish, Australian, Asian and German markets.
Below, a part of the distinctive hull-art on the Iberocruceros ships is shown, this one from the Grand Mistral. On the ships, several happy and colourfull persons act in a holiday-ish matter.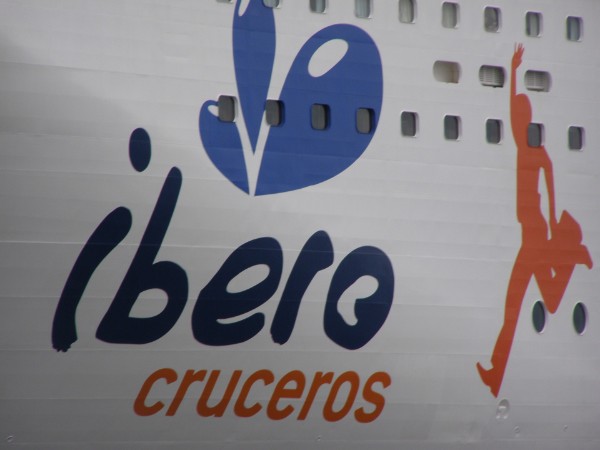 In 2010, Carnival brought in another older member of its fleet, when the Holiday was renamed Grand Holiday and started sailings for Iberocruceros. From 2012 onwards, the Grand Voyager was placed in the fleet of Costa Cruises as Costa Voyager, replacing the smaller ships within the fleet of Costa, Costa Marina that was sold to a new Maleysian company Harmony Cruises and Costa Allegra, that was sold to the scrappers at Aliaga, Turkey after an engineroom fire. Before the Carnival/ Orizonia combination, the company also sailed with the Grand Latino, now sailing for Fred. Olsen as Boudicca. From february 2014 onwards, also Grand Mistral ended her sailings with Iberocruceros, reducing the fleet even more. Also this ship was transferred to Costa Cruises as their Costa neoRiviera, opening up a new Costa Cruises concept named Costa neoCollection.
Iberojet also still exsists, this company is still fully owned by Orizonia and offers mostly airtravels to several regions in the world from Spain. Furthermore, Orizonia has a lot of other company brands, reaching as far as Brazil, Mexico and India.
Below, the funnel of Grand Mistral shows the logo of Iberocruceros. This logo is also used within other parts of the Orizonia Corporation.