Grand Victoria
The Grand Victoria was built by Chantiers de L'atlantique in Saint-Nazaire, France for the Compagnie Francaise de Navigation, a subsidiary of France-based Paquet Cruises. For them, the ship would sail the Marseilles to Haifa (Israel) line voyage, as well as Mediterranean cruises. The ship was launched at the 11th of december 1965 and delivered on the 10th of may 1966 as the new flagship Renaissance. Compagnie Francaise de Navigation was set up by Paquet to run Paquet's passengerservice to Israel and thus allow the company to bypass the Arab Legion's boycott of firms dealing with Israel. Paquet itself was seriously involved in trade with Arab Morocco. In the first years, the ship sailed succesfully, but because airtravel became more and more the new way of travelling and sailing ships under the French flag was becoming more costly for the company, a new company was formed in 1970 by Paquet Cruises under the name of Nouvelle Compagnie de Paquebots (NCP), or in English 'New Company of Packetships'. Renaissance was still managed by Paquet Cruises, but also made voyages from France to the United States for NCP.
On the 28th of october 1977, she was sold to Greece-based Epirotiki Lines for whom the ship was renamed Homeric Renaissance and was made into that line's flagship. Epirotiki's operations stretched back to 1830, when it was founded as a shipping company by George Potamianos, making it one of the world's oldest continuously operating shipping lines. Epirotiki went on to develop a leading position in the Greek cargo and passenger transportation trade, and began operating cruises among the Greek islands in the 1930s. In the 1950s, Potamianos's grandson, Anastassios, took over the direction of the company and focused it entirely on the cruise ship market, which was then undergoing a transformation from being a privilege of the wealthy to becoming a common vacation option affordable to the larger, middle-class traveling public.

Just one year later, the Homeric Renaissance was chartered to Costa Crociere of Italy and the ship was renamed again as World Renaissance. Under this name, she also sailed some cruises for Epirotiki, untill the charter with Costa started. Between the 25th of november 1983 and april 1984, she was chartered to TFC Tours of South Africa for a voyage between Plymouth, England and Cape Town, South Africa. After this, she was sailing again in her Costa charter but she went back to Epirotiki in 1985, for whom she sailed cruises to the Caribbean and up the Amazon river.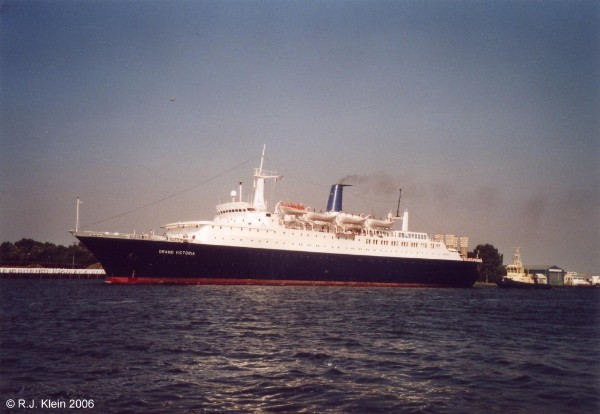 In 1993, Epirotiki was said to merge with another Greek cruiseline, Sun Line, but instead of this, they started up a partnership with industry giant Carnival Cruise Lines. In august 1995 however, after the Carnival partnership had collapsed in the face of Greek cabotage rules, Epirotiki did agree to a merger with Sun Line and together they became Royal Olympic Cruise Lines (ROC). This new name was used as a umbrella for both companies, that still used their own names. Sun Line concentrated upon a more classic and American customer and Epirotiki wanted to attract a younger and more informal crowd. In 1995, World Renaissance was purchased by the Jakarta, Indonesia-based Awani Modern Group/Club Awani and renamed Awani Dream. She received a refit in 1996 on the Koja Bahari-wharf in Jakarta and was promoted as a luxury cruise ship, which she in fact was not. The Awani venture did not work out really well, trying to market themselves as luxurious, but sailing with older tonnage, surpassed by much more luxurious ships of other lines. In january 1998, she was sold back to Royal Olympic Cruise Lines after Awani was closed down, and renamed World Renaissance again. This after a charter to South Pacific Cruises under the name of Alloura did not happen.
But at this time, the fleet of Royal Olympic was aging. In 2001, after the terrorist attacs in America, travelbusiness was hit hard felt by every cruiseline. Royal Olympic went into financial difficulties, but were still able to built two new luxury cruiseships under the names of Olympic Voyager and Olympic Explorer. Just when these ships entered service, Royal Olympic had to change their name to Royal Olympia Cruises, because the International Olympic Committee claimed the rights to the word 'Olympic'. As a result, all ships starting their name with 'Olympic' had to change that also to 'Olympia'. But a bigger problem was the financial status of now Royal Olympia Cruises and the company was declared bankrupt in 2004. An attempt to restart the company was made, but eventually, this was not a succes. With its collapse, a long shipping history in Greece came to a close.
World Renaissance was laid up at Piraeus and sold to the USA-based Ravenscroft Ship Management. The ship was renamed Grand Victoria, and placed under Elysian Cruise Lines management. She was chartered out until the end of 2006 to Russia-based Metropolis Tur, for whom she sailed European cruises. In this period, I took the picture above, near Velsen Zuid at the Northsea Channel on the 28th of july 2006.
In 2007, the ship was chartered to Blue Monarch Shipping, and renamed Blue Monarch. She sailed cruises for Monarch Classic Cruises, a division of Classic International Cruises. In october 2009, the ship was laid up at Perama and finally sold for scrapping in India at the 8th of february 2010 after almost 45 years of service.