Ocean Majesty
On the 4th of december 1965, the Spanish ferryoperator Companhia Trasmediterranea launched their new ship Juan March from the Union Naval de Levante wharf at Valencia, Spain. The ship measured 9977 tons at the time, with a lenght of 135,30 meters, a width of 19,23 meters and a draft of 5,95 meters. She had room for 124 passengers in first class, 376 opassengers in tourist class, 250 passengers on pullman berths and 325 deckpassengers. Also, some 100 cars could be taken. The ship was delivered to the company on the 21st of july 1966 and she started sailing the route between Valencia and the Balear Islands from the 16th of august of that year. Also, the ship was used for the service between Barcelona and the Canary Islands.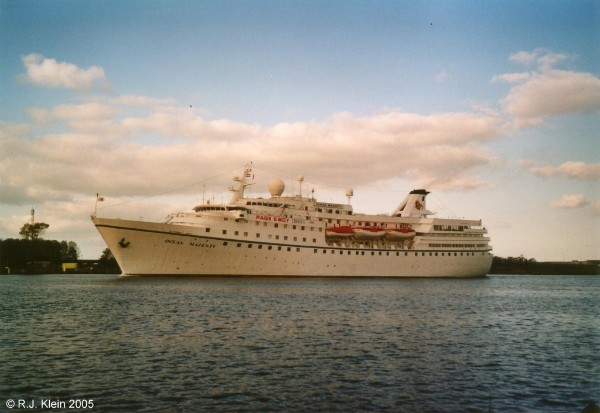 She became the Sol Christiana at the 31st of january 1985 for Sol Lines of Limassol, Cyprus, sailing the service between Piraeus, Rhodes, Limassol and Alexandria. In april the next year, the ship started sailing for Opale Lines of Limassol at the Limassol to Egypt service. She was chartered out to Adriatica for the service between Brindisi and Patras for a few months in 1989, before she was sold to the Piraeus-based Majestic International Cruises. A very lenghty rebuilding took place, not finished untill 1994. The ship was rebuilt as a cruiseliner at the yards in Perama, Greece. She emerged as a handsome looking little ship of some 10.417 tons, still recognizable as her former self. Now, there were accomodations for 613 passengers in one class.
Renamed Ocean Majesty, the ship started her first cruise in charter for Epirotiki Lines at the 22nd of april 1994, although she was renamed Olympic for them. The charter ended one year later, so she was reverted to Ocean Majesty, but only for a short while, because she then was again chartered to Epirotiki under the name Homeric. Still in 1995, the charter ended again, giving her back the name Ocean Majesty. Since this year, the little ship sailed a lot of different charters for several companies, including Nouvelles Frontiers in 1996, Apple Vacations in 1997 and 1998 and Orient Lines in 1997. In november 2000, the ship was chartered to Indian Ocean Cruise Line, but this charter was discontinued earlier then planned in 2001, after which the Ocean Majesty was chartered to the British company Page & Moy for several years.
In february 2007, the ship was chartered out to Abu Dhabi Tourism Development for use as a hotelship in Abu Dhabi. This, because the ship was not up to the 2010 SOLAS requirements. Today, she is in service for Hansa Touristik of Germany.