Astor (1986)
Astor was built in 1986 at Howaldtswerke Deutsche Werft in Kiel, Germany as yardnumber 218. The ship is 176,26 meters long, 22,61 meters wide and her draft is 6,10 meters. She can accomodate 650 passengers and 300 crew. Het gross registered tonnage is 20.606 and she has seven passengerdecks. The ship flies the Bahamian flag.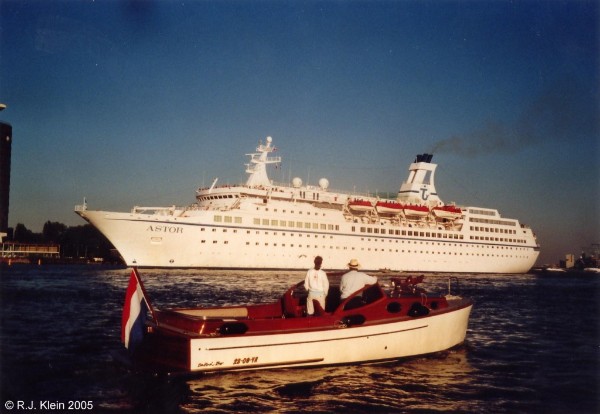 Astor as she was leaving Amsterdam at the 19th of september 2005.
Astor is an almost identical sistership to a 1980's built ship for the South African Marine Corp (SAFMARINE) with the same name. Because of gigantic losses, this first ship was sold and a new ship was ordered with the same name and from the same yard. Even before the ship was launched, on the 30th of may 1986, she was transferred to the Marlan Corporation of Port Louis, Mauritius, because of the political climate in South Africa at that moment. She was operated by the British Morgan Leisure Company for mostly British passengers. A month after she was launched, she was named and delivered to the company at the 14th of january 1987. Her first cruise took her from Hamburg to South America and the Caribbean via Genoa. Because the logo of the company was too simular to the logo of Carnival Cruise Lines (who themselves are just using the old Canadian Pacific logo) a white stripe in the middle was added to this. Within two years, she was sold to the well-known Black Sea Shipping Company of Odessa because she was not attracting passengers and for a few years she flew the Sovjet-flag after being renamed Fedor Dostoevskiy. BLASCO chartered the ship out to the German company Transocean Tours in december 1988. Transocean sailed with mostly chartered Russian ships at that moment. She undertook her first cruise out of Genoa and sailed mostly European cruises. In 1990 the charter was taken over by Neckermann Seereisen, also a German firm. When the Sovjet Union broke apart in 1991, the management of the ship was taken over by Prestige Cruises of Monte Carlo, a joined venture of Sovcomflot and Costa Cruises. Her new homeport became Nassau, Bahamas. Fedor Dostoevskiy recieved her old name Astor again when sailing in 1995 for Aquamarin Kreuzfahrten for who she sailed just one year because that company went out of business in the end of 1996. In that same year she returned to Transocean Tours of Bremen for a ten year charter and she sailed thus them ever since. In the Transocean fleet she also met her older sister, the ship that is now sailing under the name Astoria. From 2013 onwards, Astor was sailing her services in the Australian market in wintertime (northern winter that is) in charter for the British based Cruise & Maritime Voyages (CMV). In summer, she still operates European cruises for Transocean.
Below, Astor is seen as she passes the pierheads of IJmuiden on the 23rd of may 2012.