Yaughts Of Seabourn
In the middle of the 1980's, after a somewhat silent period in cruiseship newbuildings, more and more cruiselines started to order new tonnage for the booming market. In the 1970's, cruiselines mostly operated with rebuild oceanliners and freighters, but to attract new and more passengers something had to change. In 1984, Princess Cruises started the trend towards new and bigger cruiseliners with the Royal Princess, even as Carnival Cruise Lines with ships like Celebration and Holiday. A lot of lines followed and new cruiselines were starting up in rapid succession also. So there was a trend towards big ships evolving, but besides that, some other companies started to focus themselves on the luxury upmarket and one of the first to do so was the Norwegian company Sea Goddess Cruises with the small but ultraluxurious Sea Goddess 1 and Sea Goddess 2. These yaughtlike vessels started cruising in 1984. Two years later, a company named Signet Cruise Line was formed, also in Norway, by an investiment group led by Atle Brynestad and Warren Titus. Almost directly, an American company named Signet Oil protested against the name, won the case and the cruiseline had to change its name. So they started operating in 1988 as Seabourn Cruise Line, when their first ship Seabourn Pride started sailings. Three of these ships had been ordered, but after the second ship Seabourn Spirit had entered service, the order for the thirth ship was taken over by the Royal Viking Line, that was eager to built new luxurious tonnage. She entered service as Royal Viking Queen in 1992.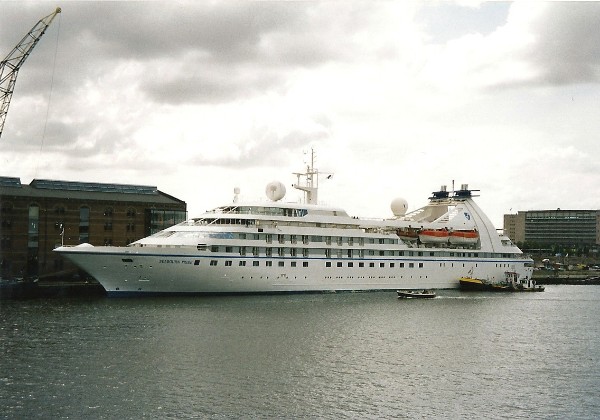 The first Seabourn ship Seabourn Pride docked in Amsterdam at the 21st of august 2002.
In 1991, Carnival bought a 25 % stake in the company, and just a few years later Seabourn would be fully Carnival-owned but remained in the Carnival portfolio as a seperate brand.
Some other changes in the cruiseworld would affect Seabourn later on, as
Kloster
sold their Royal Viking Line to Trafalgar House, the parent company of Cunard Line, in 1994. Royal Viking Line sailed only with
Royal Viking Sun
and
Royal Viking Queen
at that moment.
Royal Viking Sun
moved to
Cunard
, that was also part of Travalgar House, and
Royal Viking Queen
was transferred to Klosters' Royal Cruise Line-brand and was renamed
Queen Odyssey
in the Royal Cruise Line naming tradition. This was only for a very short while. Kloster was declared bankrupt shortly afterwards and Royal Cruise Line was also shut down in 1995. Two ships transferred to Norwegian Cruise Line, one was sold to
Fred. Olsen
as
Black Watch
and the small
Queen Odyssey
went to her sisters of Seabourn Cruise Line as
Seabourn Legend
. So the originaly planned three ship class was now all operated by Seabourn, and because of the growth of the company, the ships were seen everywhere around the world from the mid-1990's onwards. In 1997,
Seabourn Legend
collided with the huge tanker
Eindhoven Lion
when she was hijacked on a Caribbean cruise and she was nearly destroyed when she crashed into a seaside village. Luckily, this was only in the movie 'Speed 2' by Dutch Jan de Bont, starring Sandra Bullock for extra viewing pleasure.
Below, Seabourn Sojourn, one of the three newbuilds under Carnival Corporation ownership, seems to be caught between the pierheads at IJmuiden at the 2nd of september 2011.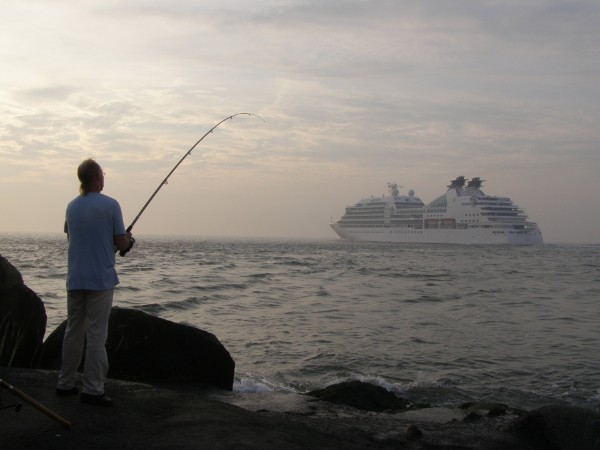 Another milestone for Seabourn Cruise Line came in 1998, when the company was merged with Cunard Line as Cunard Line Ltd. by parent company Carnival Corporation. This did not effect the name of the company or the ships, because Cunard and Seabourn kept trading as two different names. But Seabourn got a few things out of this deal, when Cunards Royal Viking Sun, Sea Goddess 1 and Sea Goddess 2 (yes, they became a part of Cunard in 1986) transferred and doubled the capacity of Seabourn as Seabourn Sun, Seabourn Goddess 1 and Seabourn Goddess 2 respectively in 1999. It was clear the company was not really anxious to recieve this fleet-doubling, because all three ships left the Seabourn fleet just three years later. So, from 2002 onwards Seabourn was reduced to the three sisters of the beginning. From march 2006, the Yaughts of Seabourn, the name that was now used for the line, are managed by V-ships, the former owner of Sitmar Cruises that had been sold to P&O in 1988. At this moment, V-ships, based in Monaco, also manages Regent Seven Seas Cruises and Silversea Cruises.
The first newbuilding for Seabourn since, well, the first ships were built, was launched in 2009 and named
Seabourn Odyssey
, followed by
Seabourn Sojourn
in june 2010. The last of the new trio was named
Seabourn Quest,
entering service in 2011. These new ships are based on the design of the first trio, but they are some 3 times bigger measuring 32.000 tons. Still, they only have room for 450 passengers. These ships will bring Seabourn back to the forefront of luxury cruising. In 2010, Seabourn Cruise Line's offices were incorporated in the Holland America Line offices. The companies started working together, although there is no merger between the lines whatsoever. Of course, the introduction of these new ships made the first trio a little more outdated. In february 2013, Yaughts of Seabourn announced the sale of all three original ships to Windstar Cruises, for delivery in 2014 and 2015. To fill in for these ships, Seabourn also ordered a fourth ship in the new class for continued growth. This ship will be an enlarged version of the three Odyssey-class ships and will recieve one extra deck.