In september of 2010 I visited Ellis Island, the most well-known and important immigrant station in the United States between 1892 and 1954. The island was restored in the 1990's after it was abandonned and neglected after the 1950's. For someone interested in shipping history, this is a very interesting place. One of the last places that really reminds of the mass immigration from Europe to America by ship. Mostly, people talk about the horrors of the island, thats why restoration was not very popular. Of course there are stories to tell that are heartbreaking. But remember that less then 2% of all immigrants passing through Ellis Island were not admitted to the United States. Most people were, also because the shippinglines in Europe were already filtering out the people that were unlikely to be admitted, because the shipping lines had to take these passengers back to Europe and pay for this themselves.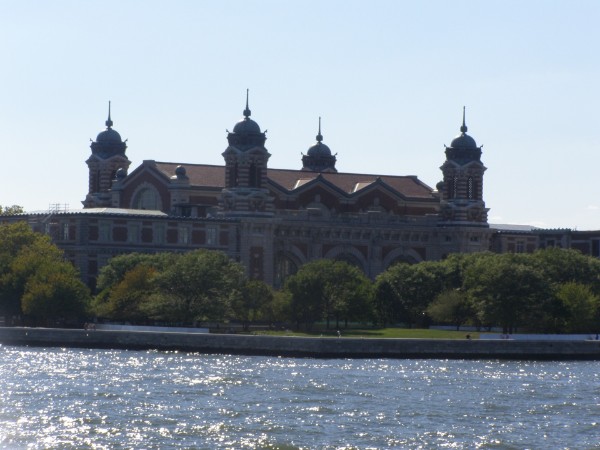 Ellis Island as seen from a whobbly boat in New York harbour, this is an excuse for the picture being not straight. The silver ring you see on the island in front of the building is the longest wall of honour in the world, the American Immigrant Wall of Honour.
On the next page I added a picture slideshow of my visit to Ellis Island,including pictures of advertisements by shipping lines and pictures from the buildings on the island. I hope you enjoy watching this addition to castlesoftheseas.nl, because I believe that the memory of the mass immigration to the United States by ship is one of the most important times from our reletively recent history.