Eurodam
Because of the succes of the first four Vista-class ships, Carnival ordered two improved and enlarged versions of the same design for Holland America Line. Also, this design was used for Cunard's Queen Victoria. Slightly bigger, they became the biggest ships untill then ordered for Holland America with a tonnage of 86.700. These ships are 285 meters long and 32,20 meters wide. Some 2104 passengers can enjoy her 11 passengerdecks, served by 929 crewmembers. To celebrate this greatest ship the company ever built, the first of these so called Signature Class ships (named after the line's slogan 'Signature of Excellence') was named in Rotterdam also, like Oosterdam a few years earlier. Much debate was there around her name and some dissapointment came when it was announced it would be Eurodam. This name was chosen because of the European heritage of the old company. The joke was that the name of the next ship would be Dollardam or Yendam. This, of course was not the case because the second Signature Class ship that was built is now called Nieuw Amsterdam. But when you look into the history of Holland America, Eurodam is not that strange of a name. After all, Statendam's name was based on the Dutch name for the United States, namely Verenigde Staten, and Eurodam is based on Europe. Eurodam was named by Queen Beatrix of the Netherlands at the 27th of july 2008 in Rotterdam, again with a great number of visitors that crowded the city for the day. Not just for the ship, but also to see the Queen herself, because she was very popular in the low country.
The next two pictures show Eurodam while she enters Rotterdam for the naming ceremony.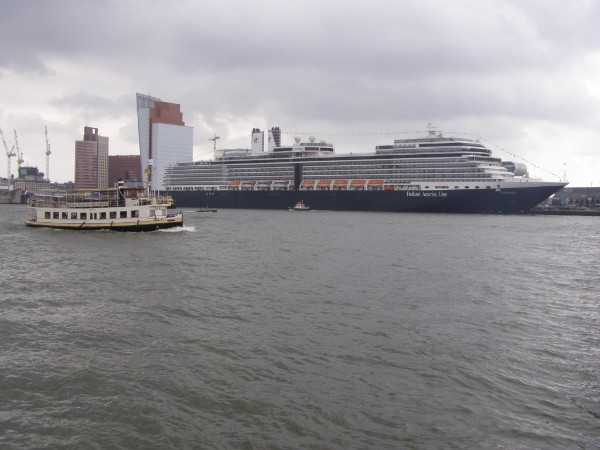 The picture below shows the enormous size of Eurodam, her name still partially hidden, while the crew for the new ships lines up just before naming.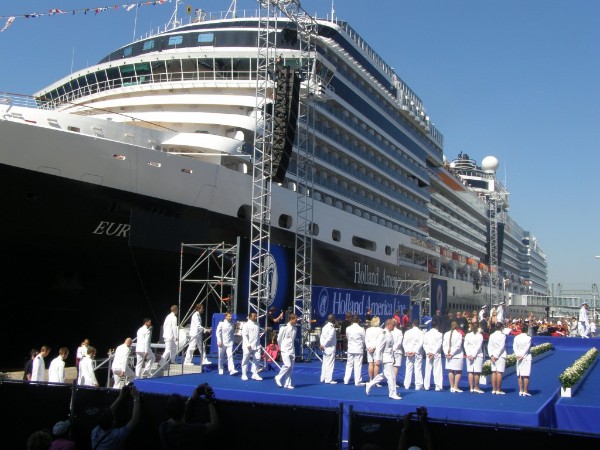 The picture below shows Queen Beatrix of the Netherlands next to Stein Kruse, CEO of Holland America Line, just before naming te Eurodam in Rotterdam at the 1st of july 2008. After that, of course the moment when the bottle of fine champagne broke on the bow.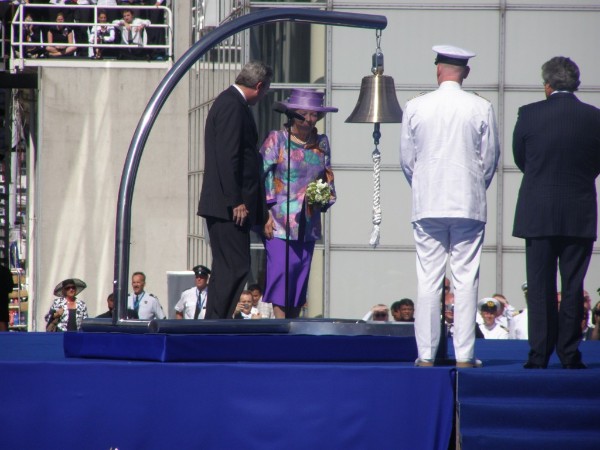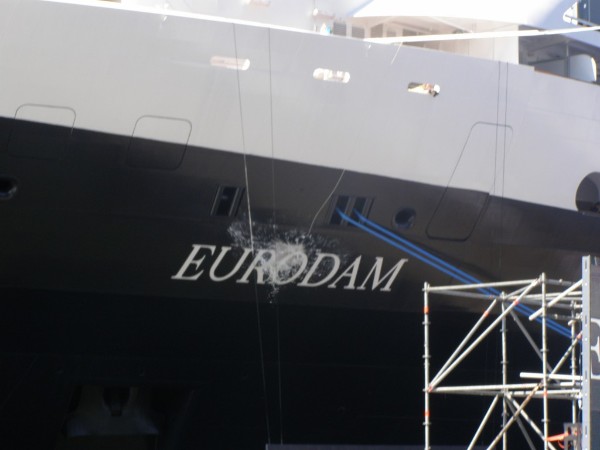 On july the 4th 2010, the second ship of the Signature-class was named at Venice, Italy by Princess (now Queen) Maxima of The Netherlands. Her name is Nieuw Amsterdam, the fourth time this name is used in the history of the company. Of course the most famous of these was the 1938-built beauty that was named 'ship of the century' in The Netherlands. That is last century of course. The new Nieuw Amsterdam is now the 15th ship in the Holland America Line fleet.
In september 2010, I met Eurodam in New York and below are some of the pictures of our rendezvous here.