Deutschland
Deutschland was built on Howaldtswerke-Deutsche Werft in Kiel, Germany as yardnumber 328. She flies the German flag and her homeport is the North-German port Neustadt in Holstein. The ship is 175,30 meters long, 23 meters wide and her draft is 5,80 meters.She caters for 520 passengers who are served by 270 crewmembers. Her tonnage is 22.496 and she has seven passengerdecks. Berlitz awarded her with ****+-rating.
Below, the small Deutschland shows she too can look very big from down below. The picture was taken at the 5th of may 2012.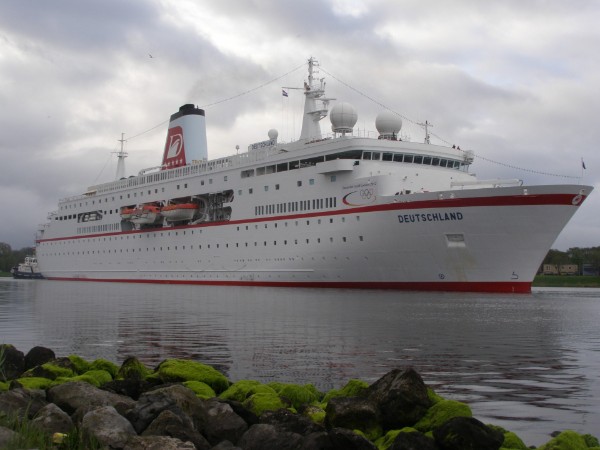 Deutschland is a well-known name is liner-history, although not for Peter Deilmann Reederei but for HAPAG (Hamburg-Amerikanische Paketfahrt Aktien Gesellschaft). The first ship of this big German company was called Deutschland and they operated four ships of that name in their history. The most well-known Deutschland was the thirth one, a four-funnelled liner built in 1900. In 1919 this ship was not taken over by the Allied forces, like most German ships were after the first world war. This because the ship was in a very poor condition. So this was the only big German ship left in Germany at that time. Peter Deilmann's Deutschland, so can be called the fifth big German ship with this name, and she floated out on the 16th of januari 1998. She is a true German cruiseliner, and her interiour is based on the oceanliners of the twenties. This makes the ship's interiour classic and unique in the modern cruise-age.
Her first cruise started exactly four months after her float-out and took her to Norway. One year later, a big rebuilding took place and eighty double-cabins were rebuild as single ones. This reduced her capacity from 650 to 520 passengers. Most cruiselines make it very hard for single passengers to have a decent-priced cruise, so Deutschland is a forerunner on this matter. In july 2000, Deutschland came in the spotlight in a very shocking way, when a Concord supersonic plane crashed into a hotel just after take-off from Paris. On board of this jet were 96 German tourists, who were supposed to take a cruise on the ship out of New York. The crash led eventually to the collapse of supersonic airtravel in total. The cruise out of New York was strangely not cancelled, although everybody on board the plane and some people in the hotel had lost their lives.
It was a little bit strange, that Deutschland visited The Netherlands just at the 5th of may 2012, because the 5th of may is in The Netherlands the day that we celebrate our libourationday from the German occupation during the Second World War. But she presented herself on a beautifull early morning providing a great scene with beatifull lighting. She also presented her little modernized funnel, now using a very light shade of blue instead of the all white. This way, Deutschland is a very welcome guest to our country...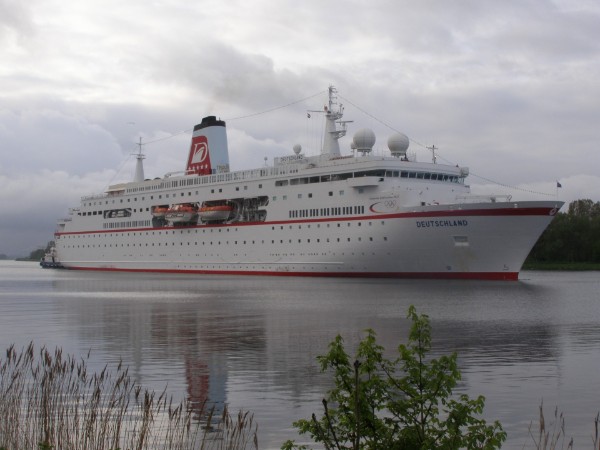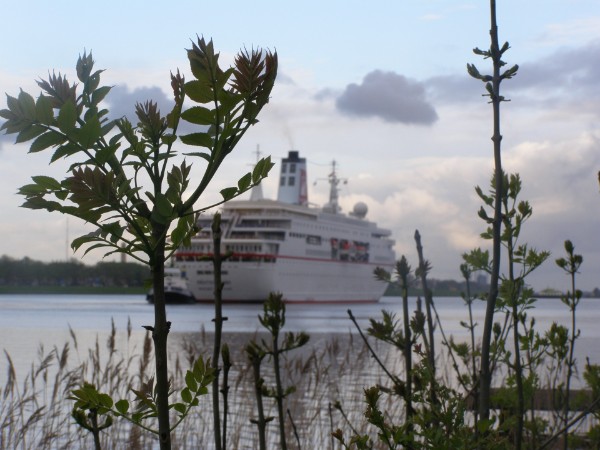 Below, an older picture is showing the ship as she leaves The Netherlands at the 21st of may 2005, also in a great setting. This time seen in evening light.